Accessories
Our range of press tooling accessories includes a wide variety of lifting accessories, fasteners, and general mechanical standard elements. They play a crucial role in various needs and complement our range of standard elements for press tooling construction. All our parts are kept in stock, feel free to explore our accessories catalogue!
Our Configurator
The AMDL standard elements configurator allows you to define your product and request a price online
It encompasses all our products, guide elements, springs, die sets, punches and dies, as well as accessories! Quick and simple, in just a few steps, the configurator helps you save time with your cost inquiries.
Our sales team is available 5 days a week to address your questions and requests within 24 hours.
Our configurator is currently in development. It will be available soon!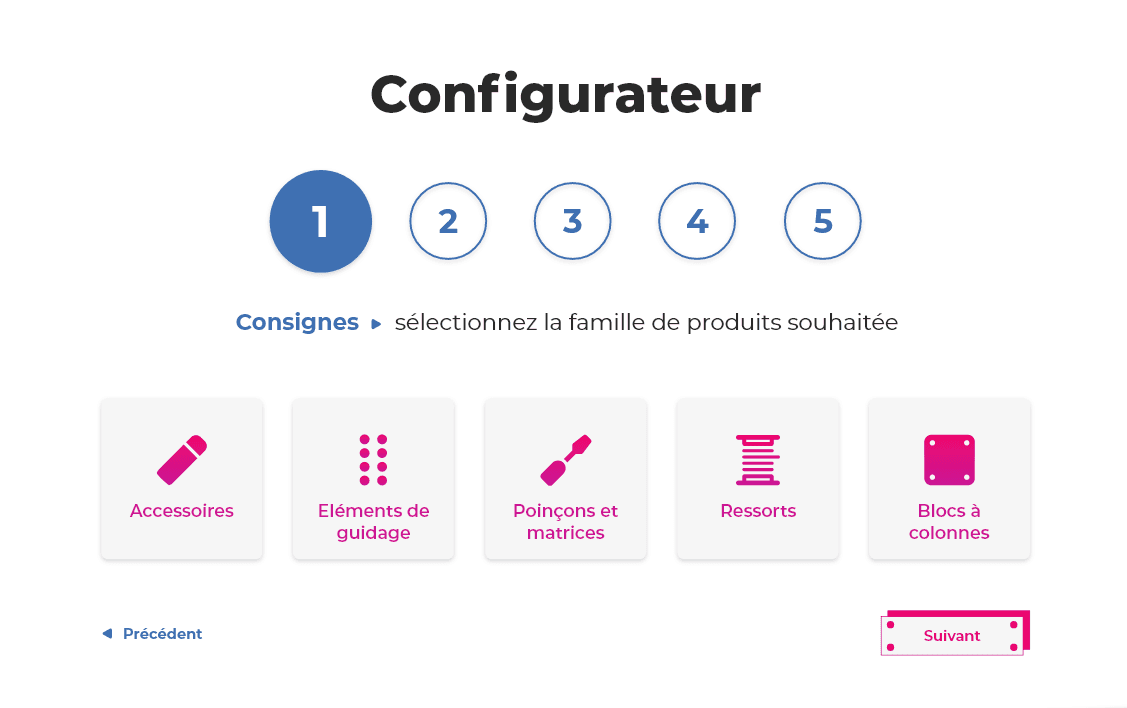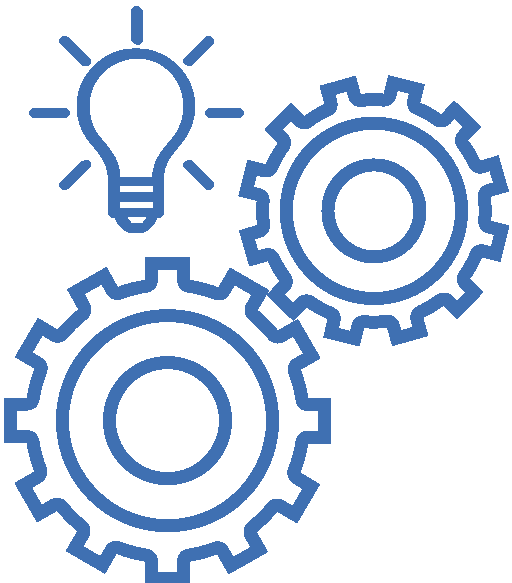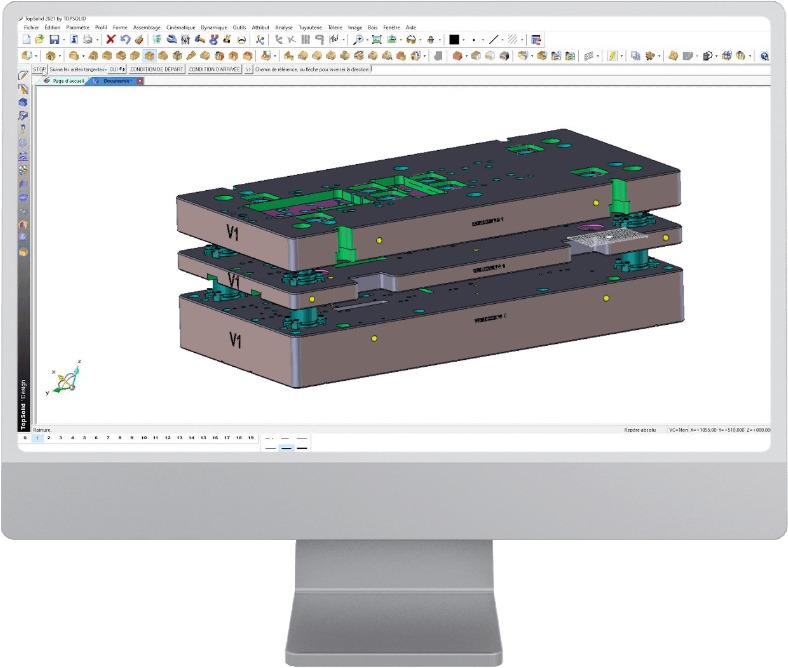 CAD
Access freely and download the CAD and 3D models of our various standard element lines on the Partcommunity platform.
To process your requests, we handle your plans in the following CAD formats:
TOPSOLID Design (Missler)File reading interface: CATIA V5, IGES (2D and Spatial), STEP, PARASOLID
ESPRIT CAM ProgrammingFile reading interface: CATIA V5, IGES (2D and Spatial), STEP, PARASOLID, SOLIDEDGE, SOLIDWORKS, VDA, ACIS, INVENTOR, STL, DXF, DWG
Handling Elements
Handling elements facilitate the proper manipulation of your sets or other pieces, making loading and unloading easier. In our stocked accessories catalogue, we offer:
Lifting point A30 010: to attach to the plates' edges
Lifting eye bolts A30 012: bolts to use with a carabiner
Lock rings A30 013: rings to use with a carabiner

Can be loaded in all directions

Lifting pin A30 015: to attach to the top of plates.
Lifting point A30 02: to attach to the upper plate, to make it engage with the press slide
Handling pins BRM V1: pins to use with clevises

Equipped with a spring washer to prevent disengagement.
All these elements are available as standard in our catalogue, but we also customise lifting and handling accessories based on your demands.
Fixation and Fastening Elements
To meet your various needs for fasteners and fixations, we offer a wide range of elements in stock:
Three pan head screws A05: Our screws are in class 12.9, available in stock from M3 to M20
Retaining bolt A15: Our retaining bolts, available from M6 to M16, consist of the bolt, tube, and washer

the tube can be cut to length

Shoulder screws A17: Shoulder screws are in stock from diameter M5 to M20

body diameters are tailored to wire springs

Pins A20 and A25: Our classic roll pins or threaded hole pins are through hardened

use of 2 small pins for positioning; threading on A25 allows for pin extraction

Threaded Plugs A32: threaded plugs provide access to springs from below
Facilitating strip guidance
We have developed a strip guide/lifter set to meet your strip guidance needs. This product allows for band release simply by rotating the guides. The guides can be disassembled from the top without the need to disassemble the entire tool.
We also offer in-stock elastomer peelers for strip detachment.
Feel free to contact us for any inquiries about our products!
Partner Product Lines
We also distribute:
handling accessories from our partner Codipro,
mechanical standard elements from Halder,
Do not hesitate to contact us to know more about these elements:
Codipro
Codipro is a company specialising in the design and manufacture of articulated lifting eye bolts. These bolts are designed for various industries: mould, automotive, logistics, aerospace, etc. The bolts are available with single, double, or triple articulation and can be used in all directions and positions.
HALDER
HALDER is a leading German manufacturer that has been designing and manufacturing mechanical standard elements (ball plungers) and positioning solutions (locating pins, stops) for assembly and machining since 1938.